my biggest comfort is my boyfriend ofc!! no matter what mood i'm in, thinking about him always makes me feel better!
he is absolutley everything to me and i love him more than i love moomin! and thats saying a lot!!!
my biggest comfort characters are: miu iruma, edward nygma, and tooticky :-)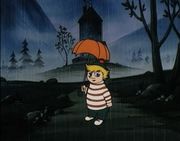 i love you tooticky!
speaking of moomin! its my favorite show! i love moomin so much!
i've seen every episode of moomin :-) its my happy show!
i kin snufkin! moomin is my best friend :D
i LOVE thorgy thor and jinkx moonsoon. ive been watching rpdr since season 4 aired!
very very few things make me happier than the things listed above! i also love barbapapa, star trek, homestuck, and reptiles :-)